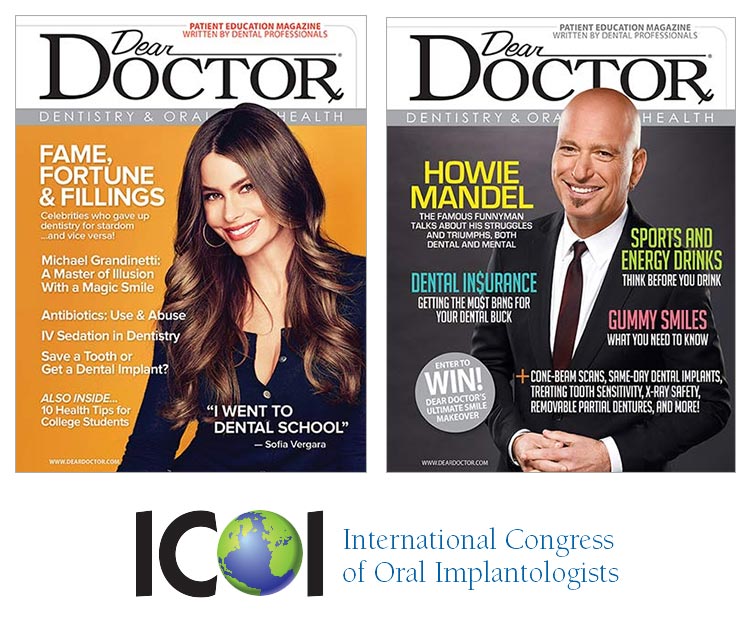 Dear Doctor is a dentist-led company that exists to educate patients and present dentistry — and your practice — in the best possible light. To do that, they produce patient-education content across a variety of media platforms that is accurate and complete, yet entertaining and easily understood by patients. All of Dear Doctor's implant-related content is submitted to the ICOI for an accuracy review, and we encourage our members to serve as authors for Dear Doctor – Dentistry & Oral Health magazine, the company's flagship publication.
Dear Doctor makes the process of authoring an article as easy as possible for our members by creating a first draft that the ICOI member is then free to edit as he or she sees fit. The draft can be based on a phone interview with the member, on the member's previously published work, or any other sources the member deems reliable. Nothing is published without the author's final sign-off. The article will also be reviewed and certified as accurate by the ICOI, and carry the organization's official endorsement seal.
Here are some recent Dear Doctor articles that were endorsed by the ICOI:
Dental Implant Timelines For Replacing Missing Teeth
Authored by Dr. Edwin S. Rosenberg
Dental Implants and Antibiotics
Authored by Dr. Marc Rothman
Dental Implants and Diabetes
Authored by Dr. Thomas W. Oates
Save a Tooth or Get an Implant?
Authored by Dr. Scott D. Ganz & Dr. Martin Trope
Dental Implants and Smoking
Authored by Dr. Richard Kraut
Dental Implants
Authored by Dr. Avi Schetritt
New Teeth in One Day
Authored by Dr. Jeffrey Ganeles
Same-Day Tooth Replacement With Dental Implants
Authored by Dr. Ira Langstein
Dental Implant Surgery
Authored by Dr. Kenneth W.M. Judy
Dental Implant Maintenance
Authored by Valerie Sternberg Smith, RDH
Dental Implants For Teenagers
Authored by Dr. Richard Kraut
The Hidden Consequences of Losing Teeth
Authored by Dr. Carl E. Misch
How Crowns Attach to Dental Implants
Authored by Dr. Winston Chee
Metal Allergies To Dental Implants
Authored by Dr. Jack Lemons
Matching Teeth and Dental Implants
Authored by Dr. Stephen J. Chu & Dr. Dennis P. Tarnow
Infections Around Dental Implants
Authored by Dr. Jon Suzuki & Lynn Mortilla, RDH
Sinus Surgery
Authored by Dr. Stephen Wallace
Authorship Opportunities
If you would like to author an article for Dear Doctor, please click here and complete the form, and an editor will be in touch with you.